Click the link below to watch our live stream service.
• Adult Spiritual Formation Class, Sundays at 9:00am
• Worship Service, Sundays at 10:30am
Corner of Blanco Rd and San Vincente Ave
W

elcome to FBC Salinas! We are a Chirst-centered church committed to helping you to have a personal encounter with Jesus Christ. Our purpose is clear, loving God and Loving People. That means we worship Jesus with vigor and joy. That means we go deep in God's Word to discover how it remains relevant today. That means we pray in church and throughout life. That means we love people outside the church through generosity, invitation & compassion. It is our hope that FBC Salinas would become your new spiritual home! We invite you to explore our church from top to bottom & discover how YOU for into this church family!
How Did FBC Salinas Start?

O
n a spring day in 1869, two school teachers, Saphronia Harvey Clark and Clara Westlake Telford, along with mutual friends, discussed the need to start a Bible hour and singing time in their school room. They decided to form the Union Sunday School and launched with a picnic on May 1
st
of that year. To their delight, the Sunday school quickly grew and on the first Sunday in May 1874, with 16 members present, the Reverend WT Green preached the first official sermon at Kern Hall on Main Street. Later in the year a lot was purchased on W. Alisal where God made the way for a church building to be erected in 1875.
The church continued to grow and move as the need arose. In the early 1960's, the church body prayerfully sought a new and larger site to accommodate the growing congregation. They secured our current home on a four-acre lot at the corner of Blanco Road and San Vincente Avenue. Although the property was purchased a few years after this decision was made, the congregation carefully saved their money and eventually built the current facility holding its first service in 1975.
First Baptist Church has a wonderful and rich history filled with the love of God and a heart for people, fulfilling Christ's command to love God and love your neighbor. Today that core value continues to live on as we share the Gospel with all who will listen and to minister to those in our community. We have a loving and concerned body that has stayed the course through many generations. With God's guidance we will continue to grow in the love and wisdom of our Lord Jesus Christ.
With such a long history, FBC Salinas has made it a priority to preserve the church's history. We have cherished artifacts, maintained notes, and treasured our history as it not only plays a part in our past, but also propels us into the future. If you're curious to learn more of the church's history and how it fits into the history of the Salinas Valley, please contact the church office.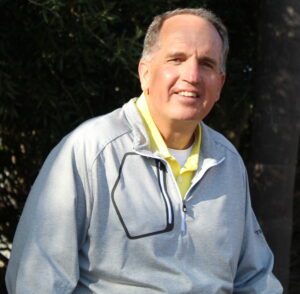 I have had the privilege of serving as Sr. Pastor at First Baptist Church of Salinas since September 2016 and consider it one of the greatest privileges of my life to serve at this church. Since coming to trust in Jesus in High School I have enjoyed serving in ministry as a youth pastor for 22 years (in Wichita, Kansas for 12 years, then in Scottsdale, Arizona for 10 years) and for the past 6 years in different roles primarily focused on preaching and teaching in Scottsdale until answering the call to come here in September 2016. It has been a wonderful experience and I am humbled that the Lord would have me serve in these ways.
I have a wonderful wife, Dawn (25+years being married), and we are empty nesters. Our daughters (Stephanie and Heidi) live in Scottsdale, Arizona.
If you can't find me at the church, there is a good chance that I could be on the golf course playing the most wonderful game in the world or meeting with someone over lunch.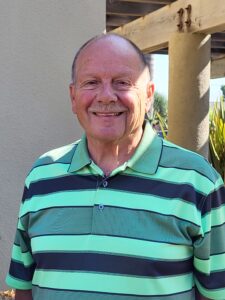 Don Meister
I was raised in a Christian home at a time when Sunday morning began with children in the neighborhood gathered on the corner waiting for the Sunday School bus to take them to church. I gave my heart to the Lord as an early teen and was baptized at the Glad Tidings Temple in San Francisco. A career in the produce industry brought our family to Salinas in 1990 and FBC in 1992. I first became involved in church leadership as an adult Sunday School teacher. Over the years I have also served as Sunday School Superintendent, Moderator, and on various committees. My passion continues to be teaching in any format that serves to edify God's people and to encourage others. I love to read, study, listen to sermons, and annually attend two pastoral conferences including the Shepherd's Conference in Sun Valley, California. Among my favorite authors are James Montgomery Boice, R.C. Sproul, Mark Dever, and John MacArthur. My wife, Johnna, and I raised two wonderful sons who are both married and serving the Lord in their respective churches. We have four beautiful grandchildren who bring joy to our lives.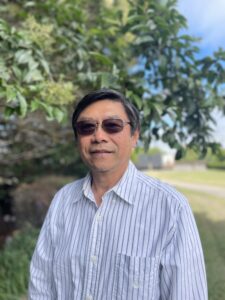 Conway Coe
I was born and raised in a Christian home in Taiwan. After graduating from Pharmacy school, I came to the US in 1979 for my Master's program in Pharmacology at theUniversity of the Pacific,Stockton,CA.
Before I left Taiwan, I met my future wife, Marji, at a YMCA where she was my English teacher. We have three children: two sons and one daughter. Marji had a profound influence on my spiritual walk with Christ. God had never been so personal to me until I met Marji. I thank God every single day for graciously sharing Marji with me for 40 years. I am still learning to rejoice always and to give thanks in all circumstances.I worked as a pharmacist for over thirty years and retired at the end of 2017. I have taught small group Bible studies since 2008, and occasionally, teach Spiritual Formation classes. Chuck Swindoll was my spiritual mentor during my formative years as a Christ follower. I enjoy reading, playing guitar and piano. I love to play tennis and bike riding. The pictures of my two grandchildren I receive from my children
always make my day.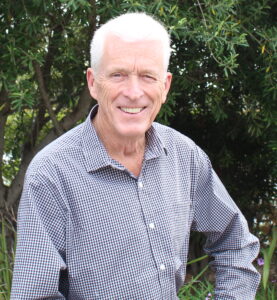 At the age of 28, Don accepted the Lord to be his personal Savior and was baptized here. He became involved with the property committee and feels blessed to be part of the many building projects through the years. Don feels called to this opportunity of serving as an elder and is excited to see what God has planned for our church. Don is married to wife, Sandy, and they have two adult children, Brent and Kylie.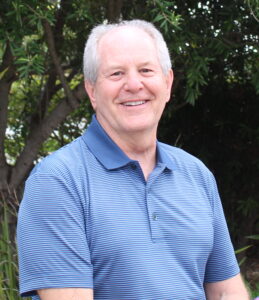 I dedicated my life to Christ and was baptized in 1997 while living Florida. Soon, I was introduced to the Nursing Home Ministry at the church I was attending, and found my calling to minister to resident in skilled nursing facilities. Today, I serve at First Baptist Church in the Prayer and Care Ministry, caring for the needs of others including those in nursing homes.I am married to my wife Karen who has two children and four grandchildren. We love traveling to visit them in Washington and Indiana as well as visiting my three sisters living in Florida. I also enjoy riding my bike and playing golf in my spare time.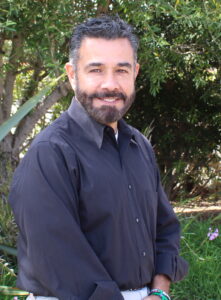 Jesus came to First Baptist Church because of Streets of Bethlehem. He came from México with an unusual sickness becoming quadriplegic. Through accepting Jesus Christ as his Lord and Savior, he was healed. Jesus is involved as a Spiritual Care Volunteer at Salinas Memorial Hospital and helps with encouragement and
taking the word of God to people at Victory Mission.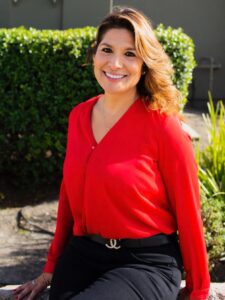 Lorraine Aguirre
Director of Children's Ministry
Lorraine was a long-time volunteer in the FBC Children's Ministry program before answering the call to come on staff. She has a long successful history of kid's ministry, AWANA,
& VBS. She is devoted to her husband James & their children.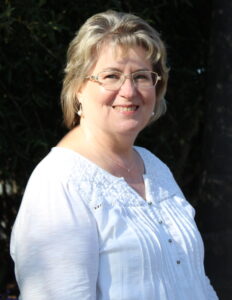 Having worked many years in retail and with ten years of banking experience, I began as office manager at First Baptist Church and Melody Park Christian School in 1996. Becoming business manager in 2006 I have enjoyed a variety of financial responsibilities, problem solving, and making connections with the families of Melody Park. God became real in my life when I was baptized at the age of eight. I have moved in and out of his presence at times; knowing Him better and growing in Him as the years pass. I am delighted and humbled by His mercy to me and rest in His saving grace. My husband, Don, and I are blessed with two grown sons who serve the Lord, and four beautiful grandchildren. Any leisure time I have is spent reading, watching English production TV, traveling to love on my grandchildren, cooking and trying new recipes.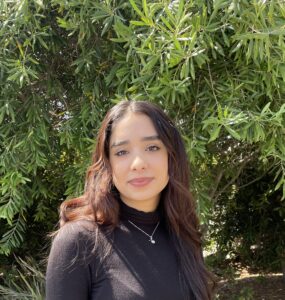 Isabel was born and raised in Salinas, Ca. She grew up as a pastors kid and has done a lot of volunteer work at church and at community events. She now attends CSUMB and is hoping to pursue a career in the Film industry.
Adam and Jennifer Penrose
Directors of Music Ministry
Director of Adult Spiritual Development
"God has been leading me on an amazing journey!"
Tracie grew up in the Sacramento area, then traveled to Fresno for college. In Fresno, she had years of experience with youth, college, and inner-city ministries. Tracie earned a Bachelor degree in counseling from Fresno State University and a Master of Divinity from Mennonite Brethren Biblical Seminary.
Here at FBC, she has been volunteering since 2010 in various ministries including music, college/young adult, women's ministry, missions committee, and youth. God led her to come on staff with FBC starting in February 2023! Her role at FBC includes Bible Studies, community outreach, and more.
When not at church she continues her role as the "Pie Lady" (bakery manager) at The Farm off Hwy 68.

Tracie has been happily married to Dave since 2006, and has lived in the Salinas Valley since 2009.
Contact Us!
Got Questions? No Problem! Fill out the form below and we'll get back to you ASAP!